"Small boy, huge talent", no other statement can perfectly describe Pernda, a boy who spits lyrics way above his age.
After putting pens on paper to become a Benfrosh Music act last year, Pernda has been consistent on his grind with back-to-back impressive music ranging from "Love & Monster", "Ribena", "Idan" to his new tune "Balling".
Like every other youngin making significant imprint in the Afrobeat space, Pernda is all-round unique with the quality of his vocals to how he scribes his lyrics and song delivery. His new song "Balling" is another testament to the fact that consistency breeds improvement as Pernda keeps getting better and better by the day.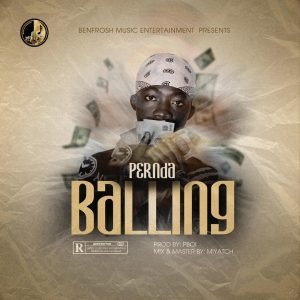 "Balling" is a song that revolves around manifestation of career breakthrough and good life for everyone yearning for it. The way Pernda did it on a groovy banging beat needs to be studied.
"We've been on it everyday
Mama just dey pray
Make our money no go waste
We still dey wait for better days"
His entry into the song highlights his musical struggles so far and the need for all efforts to pay off in the end. He then transitionss to making statements of faith and everything he wants God to make happen in his life as a musician. Shutting down 02 Arena, topping charts, making lots of money among others are things every artistes dream of.
No doubt, Pernda has successfully made a song for all hustlers. "Balling" is a song that makes you believe every good life you imagine in your head will come through as you keep working towards it.
Listen To "Balling" By Pernda Here