I really can't understand why a fan will pay to watch an artiste perform and you'd end up trying to hurt the artiste or disrupt the artiste performance.
Sometimes, it's called fan love but what kind of toxic love is that? Let's look at 5 times Musicians have been assaulted or disrespected by fans while performing on stage.
1.

Ruger
In 2022, Ruger was performing his hit song, Dior on stage when a fan attempted to grab his private property.
Ruger reacted quickly by retracting his thing while pausing for some seconds looking at the female fan with a bombastic side eye before leaving the stage in anger.
---
2.

Davido
In the middle of his Timeless concert this year 2023, an overzealous fan attempted to rough handle Davido on stage.
But trust OBO to always be on guard, he noticed the fan approaching him with speed and he was about to punch the fan in the face before his bouncers intervened.
---
3.

Zinoleesky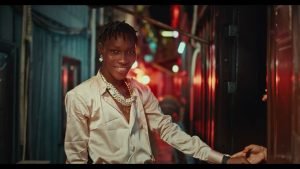 Marlian Music act, Zinoleesky almost got into a fight with a fan recently while performing at a club.
As Zinoleesky was performing the fan kept stoning him with money aggressively.
Zinoleesky visibly got angry at the gesture as he paused to give the fan the devil look before he continued with his performance.
View this post on Instagram
---
4.

Burna Boy
January this year, Burna Boy headlined a concert in Lagos where a huge number of fans turned up.
While addressing complaints from fans about keeping them waiting for 7 hours, a fan attempted to climb stage to touch him roughly but Burna Boy in defence kicked the fan in the face with his "Big 7" shoe. I am sure that fan will never forget that day.
Burna boy kick person for stage 🤣🤣

— Aros (@Damiar0s) January 2, 2023
---
5.

Cardi B
The last but also the most recent one is that of Cardi B who angrily threw a microphone at a fan who poured water on her in the middle of her performance.
The fan who was holding a cup of drink, poured the drink on her twice. On his second attempt, Cardi B got angry and used her microphone as a weapon of retaliation by throwing it at the fan.
View this post on Instagram
Ofcourse, celebrities are humans too and any act of assault or violence against them will surely elicit a reaction which might not go well with the fan involved.
So, Guys what are your thoughts?
Do you think all of these actions by fans in this video are really fan-love?
Who among the celebrities overacted?
Who acted accordingly? And who do you think didn't react well enough?
Drop your comments below